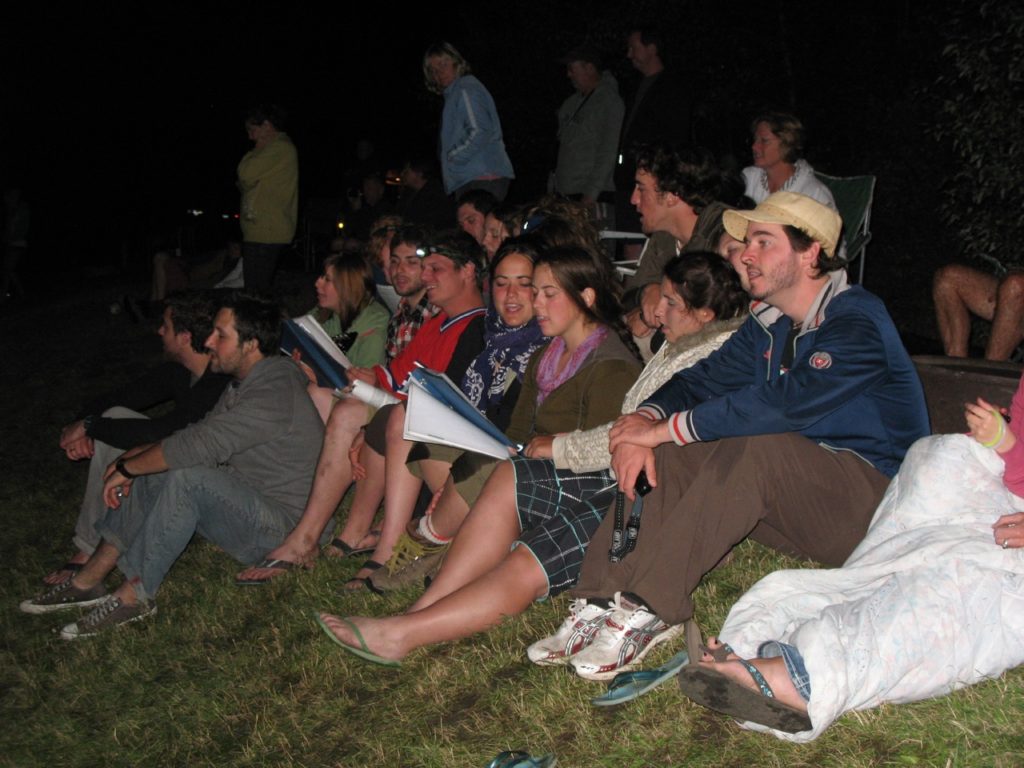 Our illustrious past program director, Nachos!, has prepared a wonderful resource on French Canadian culture. Here you will find information of interest to all age groups to help you stay connected to the French Canadian culture all year long. (Please note: This list was assembled nearly 10 years ago…some of the links need re-linking, stay tuned for updates and new recommendations from recent Program Directors!) Nachos writes…
---
Here are a couple of personal recommendations that are meant to allow you to keep learning about francophone culture through different forms of art. Trying to select the best of Francophone music, movies and books is almost impossible. There are so many great creators and creations. So here are some lists of personal recommendations. I hope this webpage will help you discover more about francophone culture in Canada… To get a general idea of the Quebec culture, a glance at this article can help you: http://en.wikipedia.org/wiki/Culture_of_Quebec.
Books
Youth
A great resource for youth books that I have found is the web page of the SRC (CBC) show called "Dominique raconte" : www.radio-canada.ca/jeunesse/dominiqueraconte/livres/index.shtml
Le Petit Prince: This book was translated in 180 languages and sold more than 80 000 000 copies worldwide, making it one of the bestselling books in history… Do I need to say more?
Le Chandail by Roch Carrier: The story of a French-Canadian kid who receives a Toronto Maple Leafs sweater instead of a Montreal Canadians one. Imagine the drama…
Culture
Société francophone de Maillardville: provide services and activities to the French-speaking region of Maillardville, Coquitlam and throughout the Lower Mainland which has about thirteen thousand Francophones. Learn more on their website: www.maillardville.com
Festival Du Bois: is hosted by the Société francophone de Maillardville, and is the largest francophone event West of the Rockies. The festival brings together more than 15,000 people and hosts outstanding artists such as La Bottine Souriante, of time Antan, Vishten. To find out more: www.festivaldubois.ca
Cartoons
Asterix: The story of the unbeatable "Gaulois" who resist the Roman invasion. A must.
Magasin general: The story takes place in the 1940 rural Quebec and revolves around Marie, the owner of the local general store.
Tintin: A Belgium reporter explores the world and solves different mysteries. A must.
The "Paul" series by Michel Rabagliati. They are stories of Paul, a young man who goes through stages of young adulthood. Great for teenagers!
Music
Francophone music has much more to offer than just Celine Dion. We want to allow you to enjoy and relax to the sound of some great music. You can check on sites like "Youtube" to get an idea of what the suggested music sounds like, but remember that the francophone music market is really limited and most of these artists do not make millions like Madonna, so it is important to make sure that they can keep having enough funds to do their music. Please purchase their music and avoid the easy option of downloading for free on the Internet. All the major music stores have a francophone section and are able to order albums from Quebec. Online purchasing is also easy with music stores like Archambault (www.archambault.ca). You can also purchase online through the websites of the artists themselves. Radio-Canada's website is a rich resource for music: www.radio-canada.ca/musique. The francophone version of "Much music" has a bit of musical information as well, mostly for youth: www.musiqueplus.com. The site of "Quebec info musique" is a real jewel to know everything about Quebec music and the artists: www.qim.com. Wikipedia has really interesting pages on Quebec music and it's artists: http://en.wikipedia.org/wiki/List_of_Quebec_musicians,http://en.wikipedia.org/wiki/Music_of_Quebec.
Youth
Carmen Campagne: I don't think she still does new stuff, but her songs and stories are great for little kids. She has some CDs and CD/books.
Annie Brocoli: Annie Brocoli is the star of youth entertainment. She does all kinds of things: sketches, music, t.v. shows… for the young kids. Learn more on her website: www.anniebrocoli.com
For the whole family
For teenagers and adults
Karkwa: Definitely one of the best francophone rock bands. They are having a big success at the moment. One of the best shows I have seen as well. Their third and new album "Le volume du vent" is great!
Malajube: this band is probably the French-singing band that has the most recognition in the international scene, touring Europe, the United States and Canada. www.malajube.com
Les Cowboys Fringants: When in school our teacher asked us to write which public person or group we identified ourselves with, almost half of the students answered "Les Cowboys Fringants". The teacher said he had never seen such a unanimous answer in 25 years of teaching. The inclusion of violin, piano and accordion in their music gives them a unique sound that brought them great success in the last decade in Quebec and elsewhere in the world. www.cowboysfringants.com
Other suggestions
Malajube, Harmonium, Richard Desjardins, Vincent Vallieres, Pierre Lapointe, Arianne Moffatt, Marc Dery, Daniel Boucher, Eric Lapointe, Daniel Lavoie, Beau dommage, Dumas, Robert Charlebois, La Bottine Souriante
Some English-singing Quebecois: Leonard Cohen, Sam Roberts, SimplePlan, Pascale Picard, Oscar Peterson, Arcade fire, etc.
Movies
The Quebec movie scene is huge! The Quebec cinema industry is alive and there are many great movies to be seen for all age groups. Most movie rental places in British-Columbia have a selection of Quebec movies, usually under the section "Canadian movies". Don't hesitate to ask them if they have more movies than what is there and if they can order more, and where you can find some. You can also rent some over the internet with free delivery services. To buy some films and TV series, stores like HMV should be able to order some for you, since they have stores in Quebec that are full of Quebec movies. You can also probably find most of them online. To have a general idea of what the Quebec cinema is all about, you can read this short article found on Wikipedia: http://en.wikipedia.org/wiki/Cinema_of_Quebec. To know more about the movies presented here, you can see their description on the Internet movie Database at: www.imdb.com. The National Film Board of Canada (known in French as the Office National du Film du Canada) has great things on their website: www.ONF.ca or www.NFB.ca. For a list of all the movies produced in Quebec since 1930, see: http://en.wikipedia.org/wiki/List_of_Quebec_movies. You will see it is pretty amazing.
Youth and all the family
The "Contes pour tous" (also known as "Tales for all") collection is a real classic of fun and violence-free movies for kids and their family. See the complete list of these movies at: http://en.wikipedia.org/wiki/Tales_for_All. They are not all available in English or with English subtitles but they are some of the best movies that the youth of Quebec have been watching for the last 25 years. If you ask any moniteurs, it is absolutely certain that they have seen at least two or three of them. Some that are particularly good are: La guerre des tuques (The dog who stopped the war), Bach et Bottine (Bach and Brocoli), Operation beurre de pinnottes (The peanut butter solution), Les aventuriers du timbre perdu (Tommy Tricker and the stamp traveler), Tirelire, combines et compagnie (The clean machine), La forteresse suspendue (Summer with the ghosts) and the list could go on and on and on…
Some movies for the youth that are not part of this collection include Matusalem, A vos marques… Party! (mostly for young teens), L'homme qui plantait des arbres (The man who planted trees) (this is an absolutely beautiful animation movie)…
Some TV series are great: Passe-Partout is the most important youth TV show of the last 30 years. Developed by the SRC (CBC) in association with the Minister of Education, it is highly educational and fun. Dating from the 1980's it might look a little "old school" but is great and it is now available in DVD. Annie Brocoli's DVDs are supposed to be great too.
"The Rocket": This is a movie on the amazing life of Maurice "The Rocket" Richard. Great for the whole family, it is entertaining and informative at the same time. The opening sequence might have a bit of coarse language (in both the English and the French version), but the rest should be fine for the whole family. If I had one movie to recommend, it would be this one!
"Dans une galaxie pres de chez vous": This TV series was so popular they made a movie. The movie was so popular, they made a second movie. The second movie was so popular, I tell you about it. You will love it so much, you will tell your whole family about it… The story of this space-vessel crew looking for a new planet for the humans of the earth is hilarious and suitable for the whole family.
Older teens and adults
Some of these movies are recommendations for adults and older teens, not for young kids. Parental advisory is advised.
"Bon Cop, Bad Cop": Absolutely hilarious and well-made movie that tells the story of two cops who are teamed up to solve a murder that occurred on the Quebec/Ontario border. All the stereotypes of the friendly English/French, Ontario/Quebec rivalry are there. Funny and entertaining. A must for adults! Beware of coarse language and other things…
"CRAZY": This is one of the best Quebec movies that I have seen in the past few years. The Internet Movie Database summarizes it: "It's a story of two love affairs. A father's love for his five sons. And one son's love for his father, a love so strong it compels him to live a lie. That son is Zac Beaulieu, born on the 25th of December 1960, different from all his brothers, but desperate to fit in. During the next 20 years, life takes Zac on a surprising and unexpected journey that ultimately leads him to accept his true nature and, even more importantly, leads his father to love him for who he really is. A mystical fable about a modern-day Christ-like figure, "C.R.A.Z.Y" exudes the beauty, the poetry and the madness of the human spirit in all its contradictions."
The trilogy of Denys Arcand including "Le declin de l'empire americain" (The decline of the American empire), "Les invasions barbares" (The barbarian invasions) and "L'age des tenebres" (Days of darkness) represents some of the best movies of Quebec. The Decline of the American Empire was nominated for best foreign language film at the Academy awards and the Barbarian Invasions won it! From the same director, "Jesus de Montreal" (Jesus of Montreal) is another one of his movies that makes us think about life and death and all their mysteries.
"Les Boys": This series of movies is based on the adventures lived by this senior league hockey team. Another Quebec classic! Could be suitable for young teenagers, but you might want to watch it first. Touching, funny and full of action.
Quebec history
There are some pretty good websites available for all levels of interests in Quebec history. For basic knowledge: The Marianapolis college in Montreal has a very interesting webpage with all kinds of statistics, articles, links, etc. It is a good resource: http://faculty.marianopolis.edu/c.belanger/quebechistory. For a short chronology of major events in Quebec history, see: www.gouv.qc.ca/portail/quebec/pgs/commun/portrait/repereshistoire/?lang=en.
Tourism
If you were ever thinking about going to Quebec for a little vacation, all I can say is "GO!!!" (Just make sure you don't miss French camp!!! HA! AH! HA!). There are so many great things to do and see, so many great people to meet!!! Some of the very useful websites to visit include the government of Quebec's official tourism website: www.bonjourquebec.com. You can also see the Montreal tourism website: www.tourisme-montreal.org. If ever you go to Montreal, you must include the Notre-Dame basilica, Mont-Royal park, Old Montreal, Plateau Mont-Royal, Marche Jean-Talon, St-Laurent avenue, and much more!!! Another very popular destination is Quebec City. I strongly suggest that you visit this jewel of a city, which is actually the oldest permanent European settlement in North America!!! 2008 was the 400th anniversary of the city! The city's official visitors website is: www.quebecregion.com. Many other regions have great charm and are really worth a visit, especially if you have come this far already. The ones I would recommend are: Saguenay-Lac-St-Jean, the eastern townships, the Laurentides, the Bas-Du-Fleuve and Gaspesie. But anywhere you go, you will find great people and great environments!!! If you ever want to plan a trip for your school, Jumpstreet Tours is definetly the best choice!!! Many BCFFC councellors lead or have lead tours with Jumpstreet: Splash, Flacdo, Caya, Kiwi, Sancho, La Sauce, Kali, Nachos, Beckett, Sierra, and more. The company provides great educational travel opportunities for school travelers and their teachers. For more information, see the website: www.Jumpstreet.com.
Internet resources
I think the best resource to have access to the francophone culture in Canada is the Radio-Canada (CBC) website: www.Radio-Canada.ca. The youth section is full of fun games and interesting facts. It is fun, entertaining and educational. It is only in French, so the oldest child can help the youngest and play on this wonderful website. The address is: www.radio-canada.ca/jeunesse.