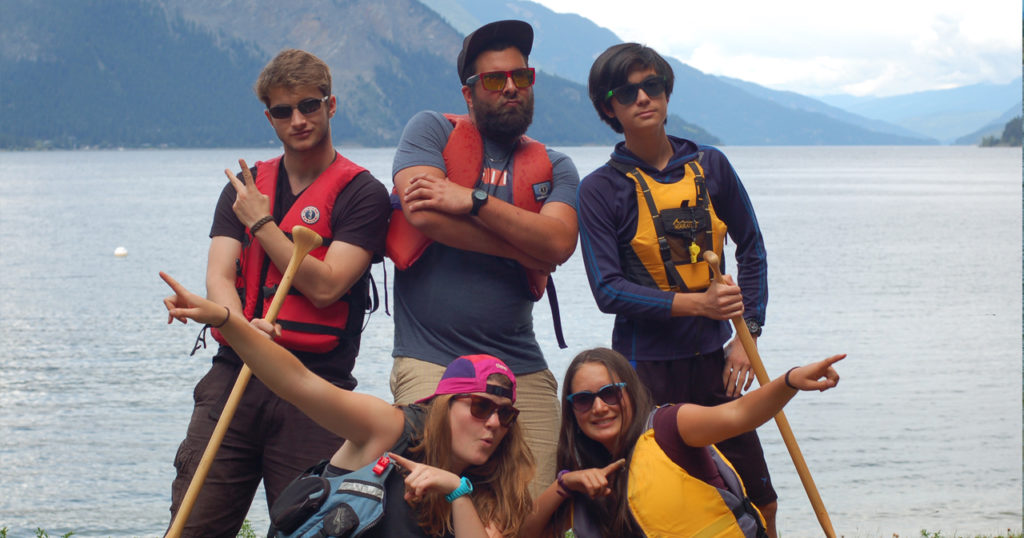 For teens who have completed grades 9 and up before summer…
Hills, thrills, and maybe some spills…. Accompanied by their fearless moniteurs, Les Coureurs des Bois head off for physical challenges such as overnight hiking, canoeing, or biking trips. They cook their own food and build a large sleeping lean-to using a tarp and other materials at hand for shelter. Les Coureurs des Bois teens need to bring extra camping, hiking, and/or biking gear. Example equipment lists can be viewed for Okanagan, Gwillim Lake and Vancouver Island. More detailed information on what to bring will be made available in May — make sure that you check this list closely. Contact the local Camp Co-ordinator or Registrar if you need more details.
At both the Okanagan and Vancouver Island camps, Les Coureurs des Bois groups spend two or three nights off site camping with activities such as kayaking, hiking, orienteering, beach combing, and much more. The camps take advantage of local physical challenges for swimming and mountain biking.
Whether hiking up a mountainous trail, canoeing a clear wilderness river, or sleeping out under the incredible Northern Lights, all previous teen campers agree that Les Coureurs des Bois program at Gwillim Lake is one awesome adventure. Unexpected thrills courtesy of Mother Nature, such as tobogganing in August atop the mountain, or watching a family of bears play on the riverbank, keep the adventure alive.
At all camps, friendships are made, outdoor skills learned, and a healthy respect for all of nature is earned.
Important note: Due to safety issues, teens in their first year of immersion studies are not permitted into the Les Coureurs des Bois program and must register in Les Créatifs.
Important note on bikes: Bikes don't need to be expensive, but should be mountain-bike style and MUST be in good repair. We strongly recommend bikes be inspected and certified "safe" by a cycle shop before camp. If the bikes are not in good working order, you will be advised to rent one if possible or not be allowed to go on this portion of the trip. Also, advanced training to ensure that your child can endure a 20-km ride up and down hilly roads is strongly recommended. There is no replacement for the self-esteem that can be gained when the children are able to keep up with their peers.